SCHMIDT ® TorquePress - Press modules with torgue motor
High dynamic, compact design, maximum force at low rotational speed
The very high torque of the SCHMIDT® TorquePress allows very high forces without additional mechanical transmissions.
The considerably higher speed constancy compared to conventional drives entails a higher machine precision.
In comparison to high ratio electric motor driven spindle presses the SCHMIDT® TorquePress has an essential lower self moment of inertia and thereby a high dynamic. For this reason the run-up time from zero to working speed is very short.
The noise remains remarkably low with all load conditions.
SCHMIDT® TorquePress 520
Precise dynamic
- High dynamic
- Compact design
- Maximum force at low rotational speed
- Maximum press force 20 kN
- ram speed 260 mm/s
- stroke 250 mm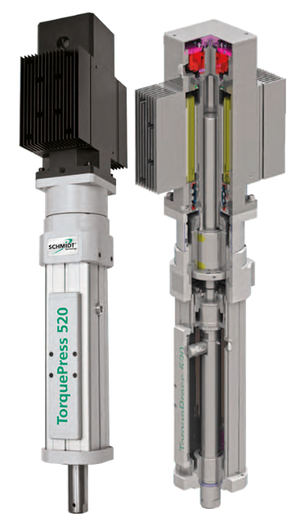 The ideal automation component
Driven by an entirely newly developed torque motor, the SCHMIDT® TorquePress 520 is the perfect press component for quick and high-precision applications. The new drive technology offers high press force capacity and at the same time low mass moments of inertia that considerably increase the precision of press force and positioning. In automation solutions the quality and the efficiency can thus be considerably improved.
Innovative drive
High dynamic, low moment of inertia
In comparison to high ratio servomotors and gear motors the torque motors have a much lower moment of inertia and thus a high dynamic. The start-up time from zero to working speed is only about 100 ms.
Constantly high torque
Due to the high-pole design of the torque motor the maximum torque is already reached at a low speed.
Constant high speed
The speed consistancy is improved by a factor of about 10 compared to conventional drives which results in higher machine precision.
Easy integration
Compact and space-saving
Due to the flange size of only 160 mm and a total length of 1100 mm the SCHMIDT® TorquePress 520 allows the space-saving integration into automation systems and can be integrated with other automation components.
Fully integrated process data acquisition
The force and displacement measurement via an absolute measuring system takes place directly on the ram with a resolution of 0.1 µm. By consequently avoiding gears and other mechanical transmission components a nearly backlash-free construction is possible which in combination with the low inertia, satisfies the highest precision requirements.
Modular interface
The exchange of data via higher level control becomes more flexible and easier to realize. The user is free to choose: either to select predefined displacement profiles, or to control fully and flexibly the displacement positions, speed and dwell time by higher level control.